Feb 10, 2018
Randy Crane from Stories of the Magic podcast finally joins us on our show to talk about his Disneyland visits with his family and gives some great tips!
Disney Park Tips with Randy Crane
We're going to start doing more trip reviews featuring friends and listeners of our show, shining the spotlight on you! Randy joins us and goes in-depth talking about how he likes to visit Disneyland with his daughter and wife. He shares his thoughts on buying food there, bringing their own, and shares a great tip on where to watch parades.
Where can we find Randy?
Custom Disneyland Tours email dltours@storiesofthemagic.com
Conversations with Kit
Kit talks about a hike he went on with his Lion Cubs scout troop!
Join us on Facebook!
Come join our Facebook group where you can ask questions and share your advice on visiting Disneyland with your kids…or even just to geek out over Disney!
Visiting Disneyland & Disney World with Kids — Go Mouse Scouts
Get in Touch with Go Mouse Scouts!
Email us at fun@gomousescouts.com, find us on Facebook, Twitter, and Instagram.
Subscribe in Apple Podcasts, Stitcher, Google Play, and iHeart Radio.
Planning a Disney Vacation?
Are you planning a Disney vacation? Let us help you out! We've teamed up with Goldgell Getaways and they can help you with all of your planning details and since they're paid by Disney, they can do it at no additional cost to you!
Their amazing agents will work with you directly to make sure you're getting the best rates possible on lodging and admission, and will even keep their eyes peeled for other discounts or bonuses to add to your trip as they come up!
There's just so much to consider when planning a vacation to Walt Disney World, Disneyland, or even a Disney cruise. Let Goldgell Getaways take care of it for you so you can know for sure that nothing will get missed and you'll have a wonderful, magical trip!
Plus, if you book a trip to Disneyland, you're entitled to a free digital copy of our Guide to Visiting Disneyland with Young Kids!
---
FREE EBOOK: 10 Ways Families Can Save on a Disneyland Trip!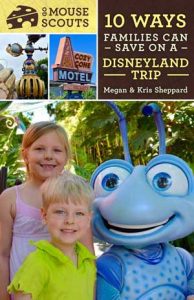 One of the very first things we hear when we talk to other people about visiting Disneyland is, "That sounds like so much fun, I wish we could go! It's just so expensive." After hearing this so many times, we started to look for ways that families could save on a Disneyland trip.
We found that while a Disneyland trip will be expensive (but totally worth it), you might be surprised to find that with a little forethought and planning, it can be within your reach!
In this short ebook, we've grouped our tips into three main categories: tips on saving and collecting extra money for your trip, saving on the trip itself, and ways to save at the parks on food and souvenirs. We even added five bonus tips on some free and inexpensive things you can do at Disneyland!
Sign up for our email list (below) and we'll email it right out to you! We'll also let you know when our Guide to Visiting Disneyland with Young Kids is released and keep you up to date on news, contests, and our latest podcast episodes.
By the way, you also get our two previous freebies: Disneyland Resort Scavenger Hunts and our Unofficial Day at Disney Resource Pack!