Dec 3, 2017
Megan & Kris gave a great review of Randy Crane's (from Stories of the Magic Podcast) educational Disneyland tour. They also review their lunch at Earl of Sandwich.
Randy Crane's Educational Tour of Disneyland Review
We had the wonderful privilege of taking one of Randy's customized Disneyland tours and we had a wonderful experience! A couple days before we met him at the park, we filled out a questionnaire so he could customize his tour specifically for us. He asked us where some of our favorite places around the park are, what we know already, and what we'd like to hear about.
We met him at the park just after opening and we went into Disneyland. As we toured the park with Randy, it didn't feel like a traditional tour as one might think, but it was more conversational and less structured. You're basically hanging out at the park with a Disney expert. We experienced his Faith and the Magic Kingdom tour which incorporates Christian faith parallels in with the Disneyland knowledge, he does, however, also offer a non-faith-based Stories and Facts Tour, which is also very good.
Throughout the tour, Randy pointed out many things to us that are right out in the open and people pass up all the time as they rush to their favorite attractions. Things like a single light bulb on Main Street that is half red and half white, or how you can tell when you're leaving Frontierland and entering New Orleans Square. All of these details come with very interesting stories behind them, and Randy is an endless fount of Disneyland knowledge!
On the faith side of things, Randy shared such stories about how Walt had originally intended there to be a church on Main Street and why it never happened, but there is, in fact, a church that can be seen at the end of Main Street, and he'll tell you exactly where to look. Randy also shared with us an interesting parallel between the story of David and Goliath and the Sleeping Beauty display in Sleeping Beauty's Castle. Very interesting stuff!
For more info on Randy's tours, you can email him at DLPlans@storiesofthemagic.com.
More from Randy Crane
Stories of the Magic Podcast - Stories of the Magic is a positive and story-filled Disney podcast offering positive stories from Cast Members, Imagineers, artists, actors, and more–including guests–promoting a mutual love of Disney, celebrating and preserving the Disney magic, and inspiring people to live their dreams just as Walt Disney did.
Faith and the Magic Kingdom Book - Disneyland is all about story, and God is a God of story––and of visual aids. "Faith and the Magic Kingdom" combines your favorite Disney theme park attractions (and more) with God's story of love, turning the park into a 3-dimensional parable. Learn to see Disneyland in a whole new way while you experience true abundant life in Christ.
Once Upon Your Time Book - Seven Strategies for Gaining Control of Your Time Through a Tour of the Magic Kingdom
Leaving Conformity Coaching - Randy works with Christians whose lives are out of balance helping them discover and connect to their God-given purposes and value, to build their lives to achieve true success and meaning, and to positively impact their world.
Earl of Sandwich
Our lunch at Earl of Sandwich was overall pretty tasty. Kris had the Holiday Turkey Sandwich, which had pretty much a Thanksgiving dinner in it! It consisted of turkey, stuffing, gravy, and cranberry sauce. Very tasty!
Megan got the broccoli cheese soup which she liked, and the kids got pepperoni pizza bread.
Conversations with Kit
Kit gives his review of our tour with Randy.
Join us on Facebook!
Come join our Facebook group where you can ask questions and share your advice on visiting Disneyland with your kids…or even just to geek out over Disney!
Visiting Disneyland & Disney World with Kids — Go Mouse Scouts
Get in Touch with Go Mouse Scouts!
Email us at fun@gomousescouts.com, find us on Facebook, Twitter, and Instagram.
Subscribe in Apple Podcasts, Stitcher, Google Play, and iHeart Radio.
Planning a Disney Vacation?
Are you planning a Disney vacation? Let us help you out! We've teamed up with Goldgell Getaways and they can help you with all of your planning details and since they're paid by Disney, they can do it at no additional cost to you!
Their amazing agents will work with you directly to make sure you're getting the best rates possible on lodging and admission, and will even keep their eyes peeled for other discounts or bonuses to add to your trip as they come up!
There's just so much to consider when planning a vacation to Walt Disney World, Disneyland, or even a Disney cruise. Let Goldgell Getaways take care of it for you so you can know for sure that nothing will get missed and you'll have a wonderful, magical trip!
Plus, if you book a trip to Disneyland, you're entitled to a free digital copy of our Guide to Visiting Disneyland with Young Kids!
---
FREE EBOOK: 10 Ways Families Can Save on a Disneyland Trip!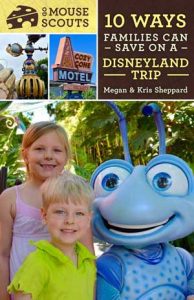 One of the very first things we hear when we talk to other people about visiting Disneyland is, "That sounds like so much fun, I wish we could go! It's just so expensive." After hearing this so many times, we started to look for ways that families could save on a Disneyland trip.
We found that while a Disneyland trip will be expensive (but totally worth it), you might be surprised to find that with a little forethought and planning, it can be within your reach!
In this short ebook, we've grouped our tips into three main categories: tips on saving and collecting extra money for your trip, saving on the trip itself, and ways to save at the parks on food and souvenirs. We even added five bonus tips on some free and inexpensive things you can do at Disneyland!
Sign up for our email list (below) and we'll email it right out to you! We'll also let you know when our Guide to Visiting Disneyland with Young Kids is released and keep you up to date on news, contests, and our latest podcast episodes.
By the way, you also get our two previous freebies: Disneyland Resort Scavenger Hunts and our Unofficial Day at Disney Resource Pack!