Oct 11, 2017
Megan & Kris took a trip to the "Dark Side." We visited Universal Studios Hollywood and had a blast! (Don't tell Mickey Mouse.)
Listen as we talk about our first experience there after 20 years and our children's first visit.
Trip Review of Universal Studios Hollywood
In this trip review of Universal Studios Hollywood, we touch on the following topics:
Preparation
We pretty much prepared for this the same way we prepare for our Disneyland trips. We packed our lunch and snacks and everything else we thought we'd need. We should have packed a change of clothes for Kit though…
Wizarding World of Harry Potter
We were in complete awe! This place is amazing and all-encompassing down to the smallest detail. We can see how it's giving The Mouse a run for its money. And teh butterbeer is so delicious!
Olivander's Wand Shop
Ginny got to participate in this experience and got to have a wand "pick her." We were a little apprehensive when she was singled out since she has a condition called selective mutism, but she did very well and the Wand Maker was very good with her even though she couldn't talk.
Back Lot Tram Ride
This has changed a lot since we visited last and it's definitely not kid-friendly. The King Kong and Fast & Furious portions were terrifying for our kids, and Kit said, "I never want to go on that again."
Animal Actors Show
We actually visited this show twice. It was a very fun and educational show involving trained animals. Very family friendly and had some wonderfully humorous moments.
We mentioned how Megan's sister, Rachel, trains dogs and actually uses dogs to herd sheep. Check out this video on what she does! It's very interesting.
Super Silly Fun Land
We mainly visited the playground and water play area which we weren't prepared for. Kit got drenched and we had to figure out what to do with him.
Waterworld Show
We loved this show, especially Teddy and Kit. It was a great stunt show with action on the water and some fun surprises.
Final Thoughts
This park isn't really a place for families with young children. There's really not very much that young kids can do, ride-wise, other than the Dumbo-style ride in Super Silly Fun Land. It's better to visit when your kids are a little older. It's more aimed at teens, tweens, and young adults.
Our favorite things were the shows we experienced and how they handle their rider swap. In fact, if Disneyland adopted this method, it'd be a lot better for families.
Conversations with Kit
Kit talks about how he liked the trip to Universal Studios Hollywood.
Join us on Facebook!
Come join our Facebook group where you can ask questions and share your advice on visiting Disneyland with your kids…or even just to geek out over Disney!
Visiting Disneyland & Disney World with Kids — Go Mouse Scouts
Get in Touch with Go Mouse Scouts!
Email us at fun@gomousescouts.com, find us on Facebook, Twitter, and Instagram.
Subscribe in Apple Podcasts, Stitcher, Google Play, and iHeart Radio.
Planning a Disney Vacation?
Are you planning a Disney vacation? Let us help you out! We've teamed up with Goldgell Getaways and they can help you with all of your planning details and since they're paid by Disney, they can do it at no additional cost to you!
Their amazing agents will work with you directly to make sure you're getting the best rates possible on lodging and admission, and will even keep their eyes peeled for other discounts or bonuses to add to your trip as they come up!
There's just so much to consider when planning a vacation to Walt Disney World, Disneyland, or even a Disney cruise. Let Goldgell Getaways take care of it for you so you can know for sure that nothing will get missed and you'll have a wonderful, magical trip!
Plus, if you book a trip to Disneyland, you're entitled to a free digital copy of our Guide to Visiting Disneyland with Young Kids!
---
FREE EBOOK: 10 Ways Families Can Save on a Disneyland Trip!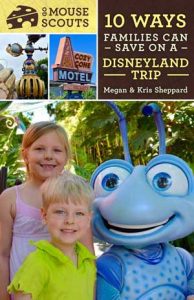 One of the very first things we hear when we talk to other people about visiting Disneyland is, "That sounds like so much fun, I wish we could go! It's just so expensive." After hearing this so many times, we started to look for ways that families could save on a Disneyland trip.
We found that while a Disneyland trip will be expensive (but totally worth it), you might be surprised to find that with a little forethought and planning, it can be within your reach!
In this short ebook, we've grouped our tips into three main categories: tips on saving and collecting extra money for your trip, saving on the trip itself, and ways to save at the parks on food and souvenirs. We even added five bonus tips on some free and inexpensive things you can do at Disneyland!
Sign up for our email list (below) and we'll email it right out to you! We'll also let you know when our Guide to Visiting Disneyland with Young Kids is released and keep you up to date on news, contests, and our latest podcast episodes.
By the way, you also get our two previous freebies: Disneyland Resort Scavenger Hunts and our Unofficial Day at Disney Resource Pack!