Sep 22, 2017
Megan & Kris talk about how to maximize your time at Disneyland during a crowded day!
Also, we're trying out a new format for our show. Starting with this episode, we're going to be combining the park tips and conversations with Kit into one episode and release those once per week. The reason for this is to attempt to cut back on the amount of work it takes to put out an episode. I talk more about it at the top of the show. If you like this change or have any other suggestions, please drop us a line and let us know!
How to Maximize Your Time at Disneyland
Have a plan, but be flexible.
You don't want to just "wing it" when visiting Disneyland. We each pick our "must do's" for the day and make those our priority. You also want to make sure to be flexible. It may be that somebody's "must do" is closed, or maybe minds are changed. Your plans aren't set in stone, so be prepared to change things up.
Start early, stay late
Do as much as you can before everyone gets there and after everyone leaves. Try to get to the parks before Rope Drop and/or stay late. If the park opens at 8:00 am, you usually have a few hours before the big crowds arrive to get in as much as you can. We're frequently able to hit five or six attractions before 11. Crowds will usually start thinning too around 10 pm if you can wait them out.
Also, consider doing attractions that have long lines in the sun early when it's cooler. Peter Pan, for example, has wait times of 45–50 minutes with a good portion of the queue out in the sun. Don't blame us if you get heat stroke while waiting for Peter Pan.
Use FASTPASS
Use FASTPASSes on popular attractions like Space Mountain and Indiana Jones. (Try combining them with rider swap, if you have young kids or babies, for more value.)
Use mobile apps
Use apps like MouseWait and the Disneyland App to gauge wait times and adjust schedule when appropriate.
Take it slow during the day
Take things slow once the big crowds get there. After all, you've already checked off most of the things on your list in the morning, right?
Conversations with Kit
Kit talks about The Magic School Bus and a really cool educational kit that he got that helps him learn about the human body.
Join us on Facebook!
Come join our Facebook group where you can ask questions and share your advice on visiting Disneyland with your kids…or even just to geek out over Disney!
Visiting Disneyland & Disney World with Kids — Go Mouse Scouts
Get in Touch with Go Mouse Scouts!
Email us at fun@gomousescouts.com, find us on Facebook, Twitter, and Instagram.
Subscribe in Apple Podcasts, Stitcher, Google Play, and iHeart Radio.
Planning a Disney Vacation?
Are you planning a Disney vacation? Let us help you out! We've teamed up with Goldgell Getaways and they can help you with all of your planning details and since they're paid by Disney, they can do it at no additional cost to you!
Their amazing agents will work with you directly to make sure you're getting the best rates possible on lodging and admission, and will even keep their eyes peeled for other discounts or bonuses to add to your trip as they come up!
There's just so much to consider when planning a vacation to Walt Disney World, Disneyland, or even a Disney cruise. Let Goldgell Getaways take care of it for you so you can know for sure that nothing will get missed and you'll have a wonderful, magical trip!
Plus, if you book a trip to Disneyland, you're entitled to a free digital copy of our Guide to Visiting Disneyland with Young Kids!
---
FREE EBOOK: 10 Ways Families Can Save on a Disneyland Trip!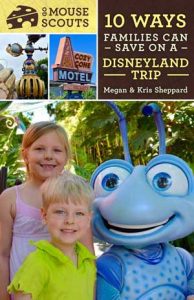 One of the very first things we hear when we talk to other people about visiting Disneyland is, "That sounds like so much fun, I wish we could go! It's just so expensive." After hearing this so many times, we started to look for ways that families could save on a Disneyland trip.
We found that while a Disneyland trip will be expensive (but totally worth it), you might be surprised to find that with a little forethought and planning, it can be within your reach!
In this short ebook, we've grouped our tips into three main categories: tips on saving and collecting extra money for your trip, saving on the trip itself, and ways to save at the parks on food and souvenirs. We even added five bonus tips on some free and inexpensive things you can do at Disneyland!
Sign up for our email list (below) and we'll email it right out to you! We'll also let you know when our Guide to Visiting Disneyland with Young Kids is released and keep you up to date on news, contests, and our latest podcast episodes.
By the way, you also get our two previous freebies: Disneyland Resort Scavenger Hunts and our Unofficial Day at Disney Resource Pack!