Sep 4, 2017
In this episode, Megan & Kris give Five helpful tips for families visiting Disneyland.
Five Family Disneyland Tips
Tag your stroller for easy ID at a distance.
There're a couple ways we do this. Our favorite way to do this is to drape a blanket over the top and the stroller handle. This does two things: it makes our stroller stand out visually from the others and it also covers up what we may have in the stroller. We never keep any valuables in it, but why provide temptation to anyone to go snooping, right?
Save on souvenirs by purchasing them before your visit.
This is a great way to save money at the parks. Instead of buying souvenirs there, buy them before you go, at places like Target, the Disney Store (clearance), or anywhere else, locally, that might have Disney merchandise. Then, bring them into the park with you and give them out while you're there! Your kids don't need to know that you didn't purchase them on Disney property. Here's the magical phrase: "Hey, look what I got you!"
Write your phone number on your children.
The bottom line here is to make sure you can be contacted if your kids get lost. This can be done in many ways. You can buy bracelets that you can write contact and identifying information, use a sharpie to write your number on the hem of their shirt, or a pen to write on their arm.
Free Samples!
Both Ghirardelli and the Boudin Bakery give free samples when you walk in. Feel free to visit the bakery, grab a sample of freshly baked sourdough bread, and learn how it's made by watching the instructional video and observing the cast members work. Then, walk across the way into the Ghirardelli Soda Fountain & Chocolate shop where you'll receive a free chocolate square for dessert! (Also feel free to buy one of their delicious creations!)
Free Ice Water!
Free ice water can be found in the Disney parks from restaurants that offer fountain drinks. Just go in and ask! Filtered water spigots are available in the Baby Care Centers at both parks as well as at Rancho del Zocalo, the French Market, and Tomorrowland Terrace restaurants. Still tasted gross, so bring water flavoring.
Also, filtered water spigots are available in the Baby Care Centers at both parks as well as at Rancho del Zocalo, the French Market, and Tomorrowland Terrace restaurants. Note: It still tastes "tappy," so bring water flavoring!
Come Join Our Facebook Group!
Come join our Facebook group where you can ask questions and share your advice on visiting Disneyland with your kids…or even just to geek out over Disney!
Visiting Disneyland & Disney World with Kids — Go Mouse Scouts
Get in Touch with Go Mouse Scouts!
Email us at fun@gomousescouts.com, find us on Facebook, Twitter, and Instagram.
Subscribe in Apple Podcasts, Stitcher, Google Play, and iHeart Radio.
---
FREE EBOOK: 10 Ways Families Can Save on a Disneyland Trip!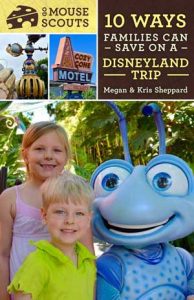 One of the very first things we hear when we talk to other people about visiting Disneyland is, "That sounds like so much fun, I wish we could go! It's just so expensive." After hearing this so many times, we started to look for ways that families could save on a Disneyland trip.
We found that while a Disneyland trip will be expensive (but totally worth it), you might be surprised to find that with a little forethought and planning, it can be within your reach!
In this short ebook, we've grouped our tips into three main categories: tips on saving and collecting extra money for your trip, saving on the trip itself, and ways to save at the parks on food and souvenirs. We even added five bonus tips on some free and inexpensive things you can do at Disneyland!
Sign up for our email list (below) and we'll email it right out to you! We'll also let you know when our Guide to Visiting Disneyland with Young Kids is released and keep you up to date on news, contests, and our latest podcast episodes.
By the way, you also get our two previous freebies: Disneyland Resort Scavenger Hunts and our Unofficial Day at Disney Resource Pack!