Mar 27, 2017
Megan & Kris respond to a question from the Disneyland Subreddit and talk about planning a longer Disneyland trip! Here's the question on Reddit:
I'm taking my family to Disneyland at the end of April and I'm trying to plan ahead as much as possible. When we go we will have a 4 year old and a 10 month old. We purchased 5 day single park tickets with the plan to go to Disneyland 3 days and California Adventures 2 days. Does that split sound about right or should I upgrade to park hopper tickets and plan on 3.5 days in DL and 1.5 in CA? We are hoping with 5 days we could be more casual with the pace where we can go back to the hotel and take naps each day, does that sound reasonable?
It seemed like their immediate question was sufficiently answered in the comments on Reddit, so we took it a step further and gave some tips on planning and sustaining yourselves during a longer Disneyland trip.
Planning a Longer Disneyland Trip
Sustaining yourselves for a long trip.
• Don't rush.
• Take down time at hotel during mid day.
• Plan some things other than rides for mid day if they stay at the parks (while things are busy (Take our scavenger hunt!)
• Have a plan for each day, but be flexible
Tips Maximizing time.
• Rope Drop
• Fast passes
• Rider Switch
• Download a wait times app (Mouse Wait, Disneyland App)
Come Join Our Facebook Group!
Come join our Facebook group where you can ask questions and share your advice on visiting Disneyland with your kids…or even just to geek out over Disney!
Visiting Disneyland & Disney World with Kids — Go Mouse Scouts
Get in Touch with Go Mouse Scouts!
Email us at fun@gomousescouts.com, find us on Facebook, Twitter, and Instagram.
Subscribe in iTunes, Stitcher, Google Play, and iHeart Radio.
Also, catch us on DiS-Versal Radio!
---
FREE Unofficial Disneyland & California Adventure Scavenger Hunts!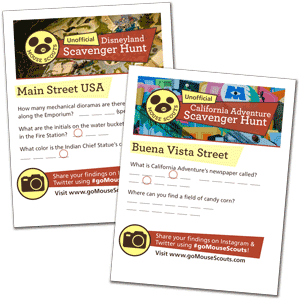 We put together a free (yet unofficial) scavenger hunt each for Disneyland and Disney California Adventure for you to bring with you next time you go to the parks! Inside you'll find 17 questions (for each park) to figure out, some easy, some challenging, which will take you through each land at each park. Finally, they come together at the end to give you one final riddle.
Sign up for our email list (below) and we'll email it right out to you! We'll also let you know when our book is released and keep you up to date on news, contests, and our latest podcast episodes.