Mar 13, 2017
Megan & Kris answer a question from Chris, a new friend who found our about us from The Sweep Spot podcast. (Thanks guys!) He asks:
What are some of the uncommon things you like to do with your kids at Disneyland?
Uncommon Things for Kids at Disneyland
Here are some of the "uncommon things" we enjoy with our kids at Disneyland and DCA.
• Catch some of the "street shows" at Disneyland and DCA like the green toy soldiers at Paradise Pier, Five & Dime, Red Card Newsboys, Golden Horseshoe revue.
• Alice & the Mad Hatter - Musical chairs on Main Street and a "Dance Party" in the courtyard just inside the castle.
• Citizens of Buena Vista Street: Molly and Milly the Messengers, Donna the Dog Lady, Officer Calvin Blue and Phi Phi Francis the Photographer.
• Go to sourdough factory and watch how the bread is made.
• Animation academy where they teach you how to draw.
• Starting up the scream factory: right after rope drop before they let people into the Monsters Inc ride, they hold a screaming contest to start up the ride.
• Candy making areas: Candy Palace on Main Street and Pooh Corner at Disneyland Park, and Trolley Candy Treats at DCA.
• Watch "Disney Secrets" videos on youtube and then go find them yourselves at the park.
Come Join Our Facebook Group!
Come join our Facebook group where you can ask questions and share your advice on visiting Disneyland with your kids…or even just to geek out over Disney!
Visiting Disneyland & Disney World with Kids — Go Mouse Scouts
Get in Touch with Go Mouse Scouts!
Email us at fun@gomousescouts.com, find us on Facebook, Twitter, and Instagram.
Subscribe in iTunes, Stitcher, Google Play, and iHeart Radio.
Also, catch us on DiS-Versal Radio!
---
FREE Unofficial Disneyland & California Adventure Scavenger Hunts!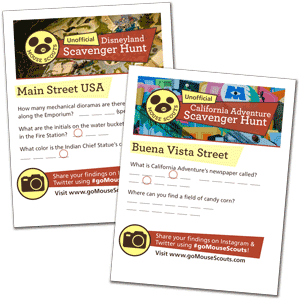 We put together a free (yet unofficial) scavenger hunt each for Disneyland and Disney California Adventure for you to bring with you next time you go to the parks! Inside you'll find 17 questions (for each park) to figure out, some easy, some challenging, which will take you through each land at each park. Finally, they come together at the end to give you one final riddle.
Sign up for our email list (below) and we'll email it right out to you! We'll also let you know when our book is released and keep you up to date on news, contests, and our latest podcast episodes.