Feb 27, 2017
Megan & Kris talk about the best napping spots at Disneyland…for kids, not adults! :)
The Best Napping Spots at Disneyland
We answered a question from our Facebook Group by Randy Crane who has the Stores of the Magic podcast.
Here's Randy's question:
What are some good places for naps (for toddlers) that are the quietest & have the fewest distractions? It seems like all the quiet places are going away or have periodic loud noise intrusions (like a monorail blowing its horn as it goes by).
First off, what places haven't work out for us?
Tables on dock across from Matterhorn
Benches in Frontierland (ok right now)
Area by Goofy's House
Here are our favorite spots:
Disneyland Park
• At the exit of the Jungle Cruise, Adventureland
• Outside the Main Street lockers
• Outside the Baby Care Center, Main Street
DCA
• Dining areas outside Boardwalk Pizza & Pasta, far end of Paradise Pier
• Walking paths behind Grizzly River Run, Grizzly Peak
• Outside the Sunset Showcase Theater, Hollywood Land
Go Mouse Scouts Giveaway!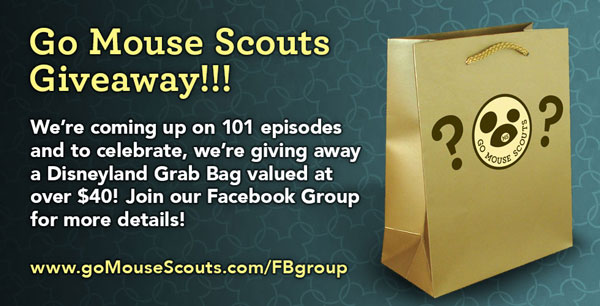 We're coming up on 101 episodes of Go Mouse Scouts and to celebrate we're giving away a Disneyland grab bag valued at over $40! This has a bunch of fun items that we've collected at Disneyland, and a couple of the items are Diamond Celebration specific.
Join our Facebook Group and check out the pinned post for details on how to enter!
Get in Touch with Go Mouse Scouts!
Email us at fun@gomousescouts.com, find us on Facebook, Twitter, and Instagram.
Subscribe in iTunes, Stitcher, Google Play, and iHeart Radio.
Also, catch us on DiS-Versal Radio!
---
FREE Unofficial Disneyland & California Adventure Scavenger Hunts!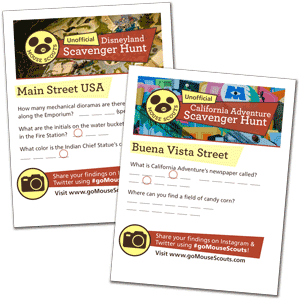 We put together a free (yet unofficial) scavenger hunt each for Disneyland and Disney California Adventure for you to bring with you next time you go to the parks! Inside you'll find 17 questions (for each park) to figure out, some easy, some challenging, which will take you through each land at each park. Finally, they come together at the end to give you one final riddle.
Sign up for our email list (below) and we'll email it right out to you! We'll also let you know when our book is released and keep you up to date on news, contests, and our latest podcast episodes.