Jan 17, 2017
Megan and Kris talk about the recent updated to security at Disneyland and what this means for you.
Disneyland Security Updates
In a nutshell, the security checkpoints have been moved from the courtyard between Disneyland and California Adventure to just outside the Mickey & Friends parking structure. There are also now security checkpoints on the perimeter of Downtown Disney.
These changes have made going through security faster and smoother and allows them to be more thorough in their searches. This also means that Downtown Disney is now within the bounds of security and therefore more protected.
Finally, it also means that they've rerouted the walking route from the Mickey & Friends parking structure. Instead of walking down Magic Way to Disneyland Drive to get into the parks, you'll now have to walk a little further taking Downtown Drive through the parking lot for Downtown Disney ending up at the security checkpoint between ESPN Zone and Rainforest Cafe. It's a little longer of a walk but it's also more protected.
Probably better just to take the tram. :)
Note: We've covered navigating Disneyland Security in Episode 65 which includes tips on getting through fast and being considerate to those waiting in line with you.
Join Our New Facebook Group!
Do you have questions about taking your young kids to Disneyland or Disney World?
Come join our community where you can ask your questions and get practical advice before your big trip! …or even jump in and offer tips based on your own experience.
Get in Touch with Go Mouse Scouts!
Email us at fun@gomousescouts.com, find us on Facebook, Twitter, and Instagram.
Subscribe in iTunes, Stitcher, Google Play, and iHeart Radio.
Also, catch us on DiS-Versal Radio!
---
FREE Unofficial Disneyland & California Adventure Scavenger Hunts!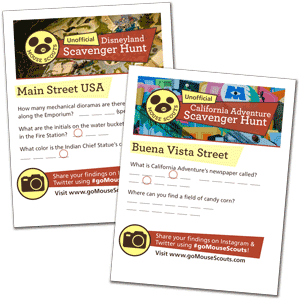 We put together a free (yet unofficial) scavenger hunt each for Disneyland and Disney California Adventure for you to bring with you next time you go to the parks! Inside you'll find 17 questions (for each park) to figure out, some easy, some challenging, which will take you through each land at each park. Finally, they come together at the end to give you one final riddle.
Sign up for our email list (below) and we'll email it right out to you! We'll also let you know when our book is released and keep you up to date on news, contests, and our latest podcast episodes.