Oct 17, 2016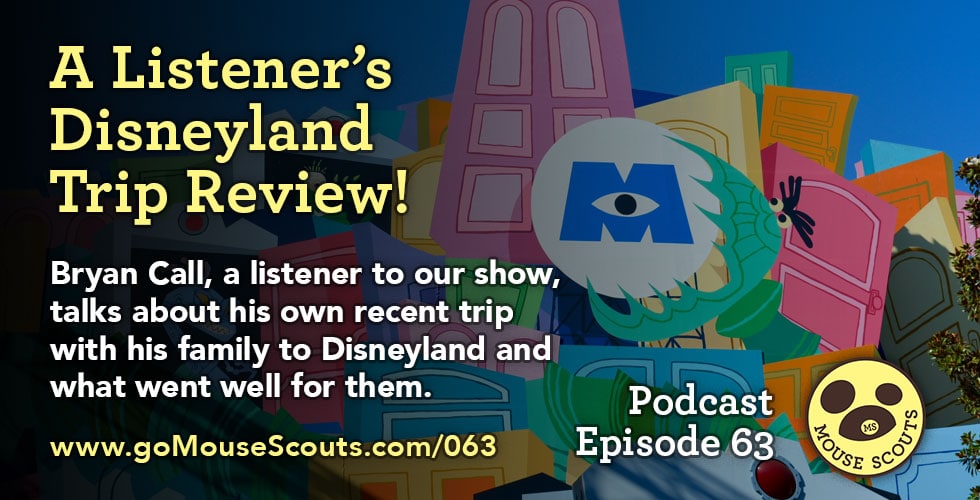 In this episode we've invited one of our listeners onto the show as a guest who recently took a trip to Disneyland with his family and we talked to him about his trip and how it went. He shares some of the things that went well and what didn't and he gives some great tips that you can use as well on your upcoming Disney trips.
Bryan's Disneyland Trip Review
Here are some of the topics that we touch on:
• Talks about his family and who went.
• How he prepared for his trip.
• Family savings jar.
• Surviving on the road.
• Using rewards points for hotels.
• Going on family walks to prepare for all the walking at Disneyland.
• The importance of breaking in your shoes.
• What was one of his favorite parts of his trip?
• Splitting up with the kids for a bit.
• What would they have done different?
• Stepping back and slowing down a bit.
• Staying off property.
• Review of Ariel's Grotto Character Dining and how it compares to meeting princesses in the Princess Fantasy Faire.
• Biggest lesson learned.
• Other Disney podcasts he listens to: The Sweep Spot and Mousetalgia.
• Last thoughts on his trip.
• Combining rider swap with Fasspass.
Get in Touch with Mouse Scouts!
Email us at fun@gomousescouts.com, find us on Facebook, Twitter, and Instagram.
Subscribe in iTunes, Stitcher, Google Play, and iHeart Radio.
Also, catch us on DiS-Versal Radio!
---
FREE Disneyland Scavenger Hunt!
We put together a FREE, fun (yet unofficial), Disneyland Scavenger Hunt for you to bring with you next time you go do Disneyland! Inside you'll find 17 questions to figure out, some easy, some challenging, which will take you through every land at Disneyland! Finally, they come together at the end to help you solve one final riddle.
Sign up for our email list and we'll email it right out to you! We'll also let you know when our book is released and keep you up to date on news, contests, and our latest podcast episodes.