Sep 28, 2016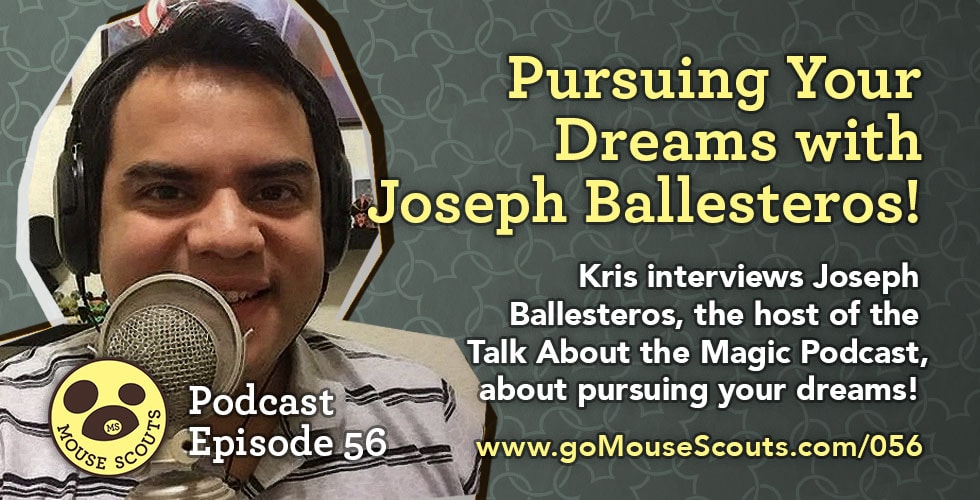 In this episode, Kris chats with Joseph Ballesteros from Talk About the Magic Podcast about pursuing your dreams!
Pursuing Your Dreams with Joseph Ballesteros from Talk About the Magic
• For those who don't know who you are, please tell us a little about yourself and what you're doing in the Disney space.
• Let's talk about the Genesis of Talk about the magic. How did that start? Where did you get the inspiration for it?
• What is your vision for, or "big picture" for Talk About the Magic?
• With so many people trying to do something in the Disney space online, what makes you different?
• We hear success stories all the time of people building a business around podcasting, blogging, or you tubing, essentially creating content, but that's certainly not the whole picture. Could you take a moment to talk about how you plan to make money from your efforts?
• What's your day job? How are you balancing that with building a business?
• Are you married, do you have any kids? How do you find a balance there?
• What's been your biggest challenge so far?
• What's been your favorite success?
• Could you talk about a specific failure moment you've had?
Lightening Round
• What's your favorite park tip?
• What's your favorite bit of Disney life or career inspiration? Something like a quote or a value?
• What is one thing in life that has you really excited right now?
Resources Mentioned During Interview
Talk About the Magic Podcast
Talk About the Magic Website | iTunes | Stitcher | Google Play
Twitter | Facebook | YouTube | Snapchat
Get in Touch with Mouse Scouts!
Email us at fun@gomousescouts.com, find us on Facebook, Twitter, and Instagram.
Subscribe in iTunes, Stitcher, and Google Play.
Also, catch us on DiS-Versal Radio!
---
FREE Disneyland Scavenger Hunt!
We put together a FREE, fun (yet unofficial), Disneyland Scavenger Hunt for you to bring with you next time you go do Disneyland! Inside you'll find 17 questions to figure out, some easy, some challenging, which will take you through every land at Disneyland! Finally, they come together at the end to help you solve one final riddle.
Sign up for our email list and we'll email it right out to you! We'll also let you know when our book is released and keep you up to date on news, contests, and our latest podcast episodes.