Aug 31, 2016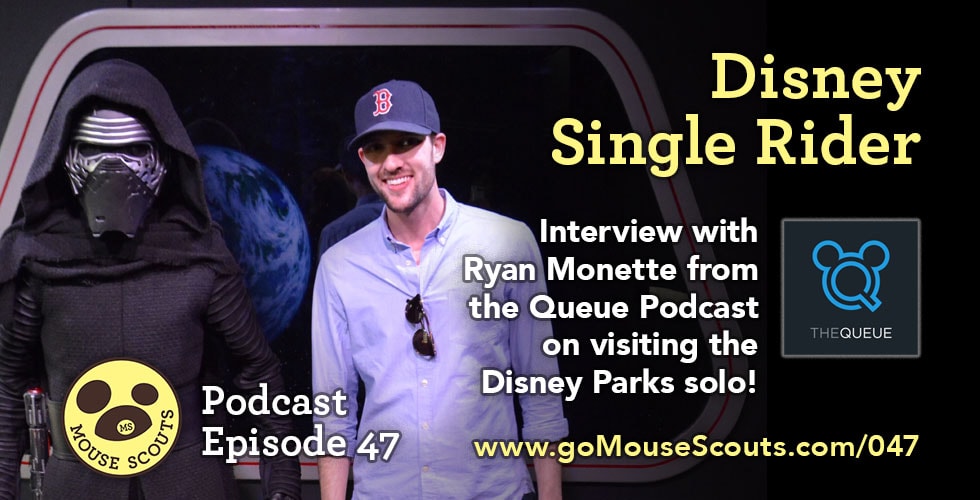 Guest Ryan Monette from The Queue podcast joins Mouse Scouts to talk about visiting Disney Parks solo! He also talks about how he's grown a community around his Instagram account.
Interview with Ryan Monte from The Queue Podcast
Here's some of what we cover:
• What are some of the perks of visiting Disney parks by yourself?
• Drawbacks?
• Do you find it easy to engage with other guests while you're there or are you content to just be silently mysterious.
• Do you have friends that you meet up with at the parks?
• Do you ever find yourself connecting with other groups that you end up spending more time with afterward?
• What kind of attention do you get from others when you're there by yourself? Cast members and guests alike?
• What do you do while you're waiting in line?
• Is it any easier getting into restaurants when it's just you?
• What would you recommend to someone who's visiting a disney park for the first time by themselves?
• What's your favorite attraction to experience solo? Least favorite?
• What are some travel tips for traveling alone?
• What's your favorite park tip?
• What's your favorite bit of Disney life or career inspiration? Something like a quote or a value?
• What is one thing in life that has you really excited right now?
Where can we find Ryan Monette?
Get in Touch!
Email us at fun@gomousescouts.com, find us on Facebook, Twitter, and Instagram.
Subscribe in iTunes, Stitcher, and Google Play.
---
FREE Disneyland Scavenger Hunt!
We put together a FREE, fun (yet unofficial), Disneyland Scavenger Hunt for you to bring with you next time you go do Disneyland! Inside you'll find 17 questions to figure out, some easy, some challenging, which will take you through every land at Disneyland! Finally, they come together at the end to help you solve one final riddle.
Sign up for our email list and we'll email it right out to you! We'll also let you know when our book is released and keep you up to date on news, contests, and our latest podcast episodes.