Apr 30, 2017
Megan & Kris talk about what's scary at California Adventure (Disneyland Park is in a past episode) for young kids preschool aged and younger.
Fear's Guide to What's Scary at California Adventure
We're mainly pointing out California Adventure Attractions that can be scary for kids 5 and under (preschool age) or a 40 inch height requirement and lower.
Hollywoodland
Monsters Inc: This ride is a dark ride and features monsters. If your kids are familiar with the movie Monsters Inc., the monsters really aren't scary at all. Parents, use your discretion.
Guardians of the Galaxy: Mission Breakout!: Having not opened as of the time of this recording, we really can't speak to this attraction, though it can be assumed that it will still be thrilling, especially since they're not changing the ride concept.
Bugs Land
It's Tough to Be a Bug: This is a 3D show that features startling aspects, smells and other interactive elements. Also, the villain from the movie, Hopper, makes an appearance which may be frightening to young ones.
All Rides are ok: This is basically a "kiddie land," with all rides being designed specifically for young children.
Cars Land
Radiator Springs Racers: This is a dark ride, as well as a thrill ride. The beginning bakes you through various scenes from the movie Cars as you're gearing up for a race, which takes up the second half of the ride as you speed through a race course. A couple things you'll encounter in the dark ride portion are the harvester vehicle and an oncoming train.
Luigi's Rollicking Roadsters: There's nothing really scary about this ride.
Mater's Junkyard Jamboree: This is a ride in which you ride in trailers that spin around. It can tend to be a little rough and if your child doesn't like spinning, you might want to move onto something else.
Paradise Pier
Little Mermaid: This is a dark ride that features scenes from the classic movie The Little Mermaid, including a scene with Ursula, the sea witch, which may be scary for young kids.
Toy Story Midway Mania: This is another dark ride which is a fun interactive game. Between sections though, the cars spin rather vigorously and may be an issue for youngsters.
Triton's Carousel: It's a carousel, have fun!
Mickey's Fun Wheel: This is basically a Farris Wheel with some fun modifications! Some of the gondolas (which you can choose) are on a track the makes it swing more than a normal gondola would swing. Plus, you have the heights. The gondolas are enclosed though, so it's safe.
Mickey's Silly Symphony Swings: The issues you'll deal with here are swinging and heights.
Jumping Jellyfish: This is a ride that takes you up high, and then lowers you down again. Think if it as a kiddie version of the Hollywood Tower of Terror without the "terror."
Goofy's Sky School: This is a mini roller coaster with sharp hairpin turns and extreme ups and downs. It's a little rough too and the vantage points might be scary for young kids riding with you.
Grizzly Peak
Grizzly River Run: this is a fun raft ride that takes you through some rapids with plenty of spins, drops, and water. It is a bit if a thrill ride, and you will get wet!
Soaring' Around the World: This is a wonderful ride that basically takes you up into a video projection transporting you to different places around the world as if you're visiting them via hang glider, granted, a very large hang glider that seats about 75 people. Simulated heights would be the biggest scare factor here.
Come Join Our Facebook Group!
Come join our Facebook group where you can ask questions and share your advice on visiting Disneyland with your kids…or even just to geek out over Disney!
Visiting Disneyland & Disney World with Kids — Go Mouse Scouts
Get in Touch with Go Mouse Scouts!
Email us at fun@gomousescouts.com, find us on Facebook, Twitter, and Instagram.
Subscribe in iTunes, Stitcher, Google Play, and iHeart Radio.
Also, catch us on DiS-Versal Radio!
---
FREE EBOOK: 10 Ways Families Can Save on a Disneyland Trip!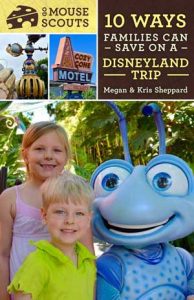 One of the very first things we hear when we talk to other people about visiting Disneyland is, "That sounds like so much fun, I wish we could go! It's just so expensive." After hearing this so many times, we started to look for ways that families could save on a Disneyland trip.
We found that while a Disneyland trip will be expensive (but totally worth it), you might be surprised to find that with a little forethought and planning, it can be within your reach!
In this short ebook, we've grouped our tips into three main categories: tips on saving and collecting extra money for your trip, saving on the trip itself, and ways to save at the parks on food and souvenirs. We even added five bonus tips on some free and inexpensive things you can do at Disneyland!
Sign up for our email list (below) and we'll email it right out to you! We'll also let you know when our Guide to Visiting Disneyland with Young Kids is released and keep you up to date on news, contests, and our latest podcast episodes.
By the way, you also get our two previous freebies: Disneyland Resort Scavenger Hunts and our Unofficial Day at Disney Resource Pack!