Apr 3, 2017
Megan & Kris give some tips on how to have an Educational Disneyland trip!
I would rather entertain and hope that people learned something than educate people and hope they were entertained. — Walt Disney
Having an Educational Disneyland Trip
Megan & Kris have three schools of thought when it comes to finding Education at Disneyland:

1. Education You Can Bring (In Line Education)
• Flash cards in line
• Drills on math concepts
• Bringing a book to read aloud while in line
• Have younger kids look for letters, colors, read clocks, etc.
2. Disney's Educational Offerings:
• Animation Academy
• Sourdough Bread Factory
• Great Moments with Mr. Lincoln
• Redwood Creek Challenge Trail
3. Education You Can Find:
Having discussions.
Here are some topics to get you started:
• Cartoons Then vs Now
• Cars Land & Route 66
• Grizzly Peak: National Parks
• Time Periods - Turn of the Century America
• Jungle Cruise - Discussion on Animals
• Frontierland - Early American Settlers
• Mark Twain River Boat - American History
• Tom Sawyers Island - Literature, Mark Twain
• New Orleans Square - Mardi Gras
• Tomorrowland - Space Travel, Technology
• Main Street Train Station - History on Steam Power and Trains
• Disneyland History
Come Join Our Facebook Group!
Come join our Facebook group where you can ask questions and share your advice on visiting Disneyland with your kids…or even just to geek out over Disney!
Visiting Disneyland & Disney World with Kids — Go Mouse Scouts
Get in Touch with Go Mouse Scouts!
Email us at fun@gomousescouts.com, find us on Facebook, Twitter, and Instagram.
Subscribe in iTunes, Stitcher, Google Play, and iHeart Radio.
Also, catch us on DiS-Versal Radio!
---
FREE Unofficial Disneyland & California Adventure Scavenger Hunts!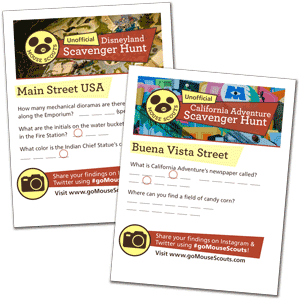 We put together a free (yet unofficial) scavenger hunt each for Disneyland and Disney California Adventure for you to bring with you next time you go to the parks! Inside you'll find 17 questions (for each park) to figure out, some easy, some challenging, which will take you through each land at each park. Finally, they come together at the end to give you one final riddle.
Sign up for our email list (below) and we'll email it right out to you! We'll also let you know when our book is released and keep you up to date on news, contests, and our latest podcast episodes.