Feb 6, 2017
Megan & Kris talks about everything you need to know about character meet & greets at Disneyland and Disney California Adventure!
Character Meet & Greets at Disneyland & DCA
Here's a bit of an outline for what we cover:
Character Tips
Autograph book & marker
Making your own autograph book
Dress up like favorite character
Celebration pins
Know your kids.
Taking Photos
Have photo pass or AP ready
Have camera ready, cast members will use your camera too
Where to find characters:
Classic Characters: Fab Five
Main Street by Lincoln and the Fire Station and Toon Town
Oswald front of DCA
Princesses
Royal Hall
Fantasy Faire
Wishing Well
Aladdin's Oasis
New Orleans Square
Anna & Elsa at DCA
Fairies
Pixie Hollow
Pooh & Friends
Critter Country
Star Wars Characters
Star Wars Launch Bay
Storm Troopers
Boba Fett
Super Heroes
Hollywood Land - Captain America
Cars
Cars Land
Disney Junior Characters
Hollywood Land
Chase Disney Card Specials
DCA
Star Wars Launch Bay
Character Dining
Secret "Strolling" Characters
Boba Fett
Storm Troopers
Alice & Mad Hatter
Peter Pan & Hook
Cruella DeVille
Citizens of Buena Vista Street
Special characters during holidays (villains during Halloween Party)
Go Mouse Scouts Giveaway!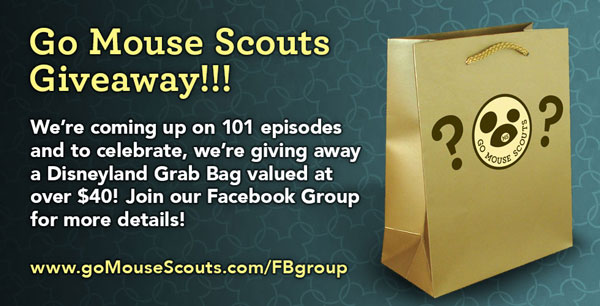 We're coming up on 101 episodes of Go Mouse Scouts and to celebrate we're giving away a Disneyland grab bag valued at over $40! This has a bunch of fun items that we've collected at Disneyland, and a couple of the items are Diamond Celebration specific.
Join our Facebook Group and check out the pinned post for details on how to enter!
Get in Touch with Go Mouse Scouts!
Email us at fun@gomousescouts.com, find us on Facebook, Twitter, and Instagram.
Subscribe in iTunes, Stitcher, Google Play, and iHeart Radio.
Also, catch us on DiS-Versal Radio!
---
FREE Unofficial Disneyland & California Adventure Scavenger Hunts!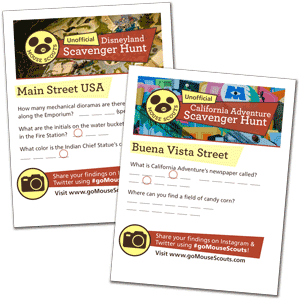 We put together a free (yet unofficial) scavenger hunt each for Disneyland and Disney California Adventure for you to bring with you next time you go to the parks! Inside you'll find 17 questions (for each park) to figure out, some easy, some challenging, which will take you through each land at each park. Finally, they come together at the end to give you one final riddle.
Sign up for our email list (below) and we'll email it right out to you! We'll also let you know when our book is released and keep you up to date on news, contests, and our latest podcast episodes.