Oct 3, 2016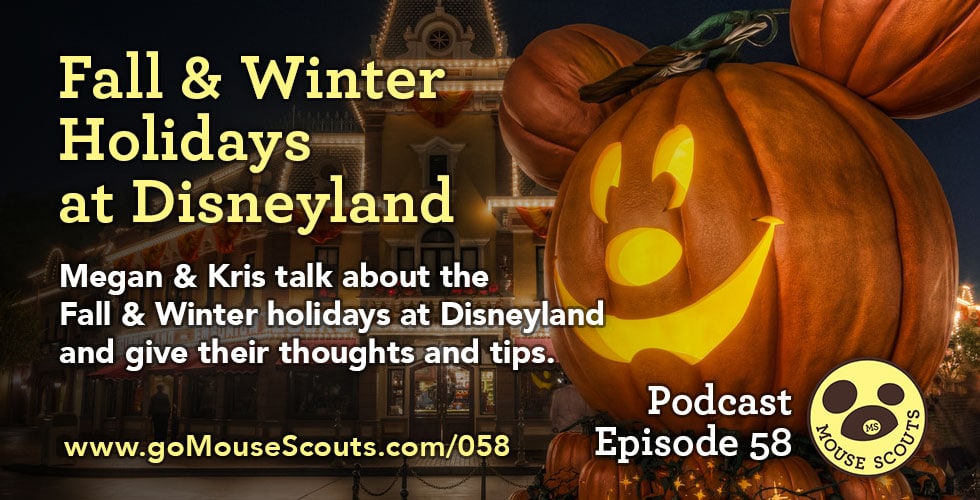 In this episode, Megan & Kris talk about the Fall & Winter holidays at Disneyland and give their thoughts and tips.
Fall & Winter holidays at Disneyland
Here are some of the topics we cover in the show.
Special ticketed events:
• Mickey's Not So Scary Halloween party
• Mickey's Very Merry Christmas Party
Themed rides:
• Haunted Mansion
• Space mountain ghost galaxy
• Jingle Cruise
• Small World Holiday
Themed performances:
• Dapper Dans
• More villains meet and greets
• Maybe Christmas Carolers
• Christmas Fantasy Parade
• Special holiday fireworks
• Santa in Critter Country
• Candlelight Processional
Tips:
• Don't go on the actual holidays or during the week between Christmas and New Years.
• Enjoy all the holiday decor.
Get in Touch with Mouse Scouts!
Email us at fun@gomousescouts.com, find us on Facebook, Twitter, and Instagram.
Subscribe in iTunes, Stitcher, and Google Play.
Also, catch us on DiS-Versal Radio!
---
FREE Disneyland Scavenger Hunt!
We put together a FREE, fun (yet unofficial), Disneyland Scavenger Hunt for you to bring with you next time you go do Disneyland! Inside you'll find 17 questions to figure out, some easy, some challenging, which will take you through every land at Disneyland! Finally, they come together at the end to help you solve one final riddle.
Sign up for our email list and we'll email it right out to you! We'll also let you know when our book is released and keep you up to date on news, contests, and our latest podcast episodes.